---
RMVB Codec
You must have the adequate software to read this kind of file and they are available for download through the following software: RealMedia Player and Real Alternative.
Real Alternative

Real Alternative will allow you to play RealMedia files without having to install RealPlayer/RealOne Player, it is a codec pack created for playing RealMedia files on Microsoft Windows operating systems. The pack can be used with any DirectShow-enabled media player, such as Media Player Classic, which is included as part of the package, This download is version 1.9 lite.


Real Alternative

RealMedia Splitter

RealMedia Splitter allows you to play RealNetworks audio/video files using Windows Media Player. You will need to install RealPlayer/RealOne Player or Real Alternative [recommended] first. This is version 1.0.1.1.


RealMedia Splitter
Real Alternative and RealMedia Splitter can't create RMVB video files, if you need create RMVB video, RealProducer Basic is one good choice, it is free and perfect for users who want to author high quality RealAudio and RealVideo, provides robust, reliable, and fault-tolerant encoding to convert a variety of media types into RealAudio and RealVideo formats.
RMVB Converter
This RMVB Converter is one free software developed by RMVBCodec.com, it can convert RealMedia (RM,RMVB) file to other popular video formats with high quality, it can support the almost all the RM/RMVB formats without installing RealPlayer, support only rip the audio data from RMVB video and convert to MP3 audio files, integrated all high speed decoders and encoders, this RMVB converter is free and easy to use.
Why need convert RMVB video to other formats? RMVB is one excellent video format, but it is not open video format, many software and devices can't support RMVB format, for example: iPod, Song PSP, IPhone, Mobile Phone and etc.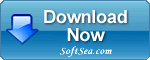 RMVB Converter

The latest version is 1.6 (Released on Feb 2, 2009). Some users have report several bugs, all these bugs have be fixed now, one DLL file be added to the install package, thanks for these users here. If you have any questions or suggests about this program, please contact me (please make sure there have enough disk space for conversion on your PC; if you can attach one small video clip, it will help me more).

RMVB Converter can convert RMVB video files to these video formats:
MP4 (MPEG4)
AVI (MPEG2)
DivX (Digital Video Express)
Xvid
H.264/AVC
WMV (Windows Media Video)
WMV (Format for Xbox 360 requires)
FLV (Flash Video)
MP4 (Format for Sony PSP requires)
MOV (QuickTime)
3GP (Mobile Phone)
MP3 (Only Audio)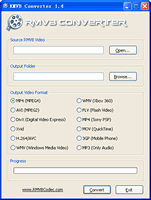 Learm more info about RMVB converter, you can view the full size Screenshot.
About RMVB file format
The RMVB file format, standing for 'RealMedia Variable Bitrate', is a video format created by RealNetworks, Inc. It is a variable bitrate extension of the RealMedia multimedia container format. As opposed to the more common RealMedia container, which holds streaming media encoded at a constant bit rate, RMVB is typically used for multimedia content stored locally. Files using this format have the file extension ".rmvb".
The advantage is RMVB format abandons Average Bit Rate and use Variable Bit Rate to compress video data. RMVB files have become a popular format for movie titles because they have smaller file sizes and lower bitrate with better quality compared to DivX.

---